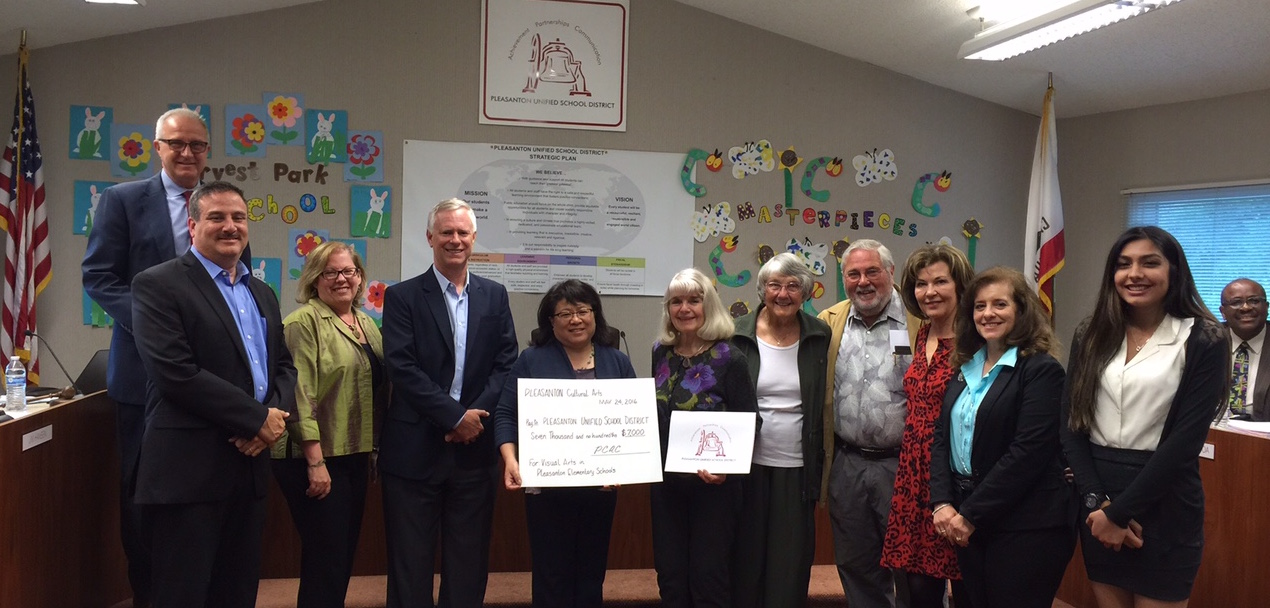 Pictured: the PUSD Board (left) and the  Pleasanton Cultural Arts Council Board. [Click for larger view]
The Pleasanton Cultural Arts Council Contributed $14,000 in Support for Musical and Visual Arts in the Pleasanton Schools to help ensure a rich and sustainable program in music/strings in the Pleasanton schools.  Kelly Cousins and Dave Wright, co-presidents of the Pleasanton Cultural Arts Council (PCAC), donated $7,000 of PCAC resources to the music program at the May 24th, 2016 Board meeting of the Pleasanton School District.  Cousins spoke about "how–years ago–there was a 20-year hiatus in the strings program." Then, 12 years ago, PCAC advocated—with others– for a full time faculty member in the 4th and 5th grades to begin a strings program; also PCAC donated musical instruments—and, eventually, a full-scale strings program developed up through Foothill and Amador high schools.
PCAC wanted that to continue. "Our community and schools need to ensure funds for music programs that support thousands of students. "You cannot just start and stop music programs after students have studied and begun playing instruments– and then expect them to 'pick up' where they left off if program staff is underfunded for a year or two," said Wright. "PCAC was proud to give some small assistance, to add to what PPIE and PSEE have already offered," he said.
Additionally, Charlotte Severin and Dave Wright, co-chairs for the Pleasanton Cultural Arts Council two-piano benefit concert this year with Tamriko Siprashvili and Temirzhan Yerzhanov, and Delores Bengtson, concert committee member, presented a second check for $7,000 to Jim Hansen, acting superintendent for the Pleasanton Unified School District. That money will go to support visual arts in 9 Pleasanton primary schools.
Another amazing benefit concert is planned for Feb. 4, 2017 with a piano and guitar extravaganza starring internationally acclaimed artists: pianist Tamriko Siprashvili and Guitarist Peter Argondizza. The program is designed to delight all ages and should be a "sold out" event– so everyone is encouraged to get their tickets as soon as they are available.  Check with the Firehouse Box office: 931- 4848. The concert will be at the Amador Theater, 1155 Santa Rita Rd., Pleasanton.